Training für...
...professionelle Schauspieler:innen.
Mo 18-21 Uhr in Berlin-Kreuzberg Nähe U-Bahnhof Prinzenstrasse oder Hallesches Tor
Schauspieler:innen sind beeindruckend wenn ihr Spiel in vorgegebenen, verabredeten dramatischen Situationen dennoch spontan bleibt und dadurch lebendig und glaubhaft ist. Die von Sanford Meisner entwickelte Technik bietet hierzu ein ideales Training: spontanes Reagieren und Agieren unter vorgestellten Umständen.
Die Fähigkeit spontan zu agieren und Emotionen zuzulassen, um innere Ereignisse und Entschlüsse für den Betrachter sichtbar werden zu lassen, wird schon ab der ersten Übung der Meisner Technik, der sogenannten "Repetition" (Wiederholungsübung) trainiert.
Die "Repetition" wird in der MoK hauptsächlich trainiert, eine Partnerübung für wahrhaftigen Kontakt zum Gegenüber, sponatnes Reagieren auf Szenenpartner:innen und auf vorgestellte Umstände.

Ziel ist es Vertrauen in das individuelle, durch Impulse motivierte Handeln im dramatischen Konflikt zu gewinnen, sowie emotionale Transparenz, Mut zur Spontaneität und Empathie im Kontakt zu Szenenpartner:innen zu stärken.

Die Meisner (offene) Klasse (kurz MoK) bietet ein optimales Training vor Castings oder Vorsprechen, oder über einen längeren Zeitraum hinweg. Innerhalb eines wöchentlichen, kontinuierlichen Trainingsprozesses (ca. 10 Wochen) können Gewohnheiten, die das individuelle Handlungsspektrum dominieren, bewußt erlebt und erweitert werden. Mithilfe der Spontaneität, die durch die Übungen freigesetzt wird, entstehen neue Handlungsimpulse die tendentiell ungewohnte Handlungsweisen erfahrbar machen, die wiederum das spezifische Handlungs- und Rollenspektrum erweitern.

Je nach vorheriger Absprache kann an Rollen, Szenen für Castings und/oder Vorsprechen im MoK-Training ebenfalls gearbeitet werden.
Hygienekonzept:
Es werden jeweils höchstens 10 Personen teilnehmen.
Solange es keine kostenfreien Bürgertests gibt werden Schnelltest vor Ort durchgeführt (gegen Spende im Ermessen des Spenders). Dafür bitte bis spätestens 17.45 Uhr vor Ort sein, um den Test durchzuführen.
Es gilt die jeweils aktuelle Maskenpflicht.
Die Übungen sind auch bei Einhaltung des Mindstabstands durchführbar und können an die Abstandsregel angepasst werden.
Anmeldung: [email protected]
Unkostenbeitrag: 3stündige Session 25€ - Zehnerkarte 215€


Training for...
...professional actors.
Mon 6-9 p.m. in Berlin-Kreuzberg near subway station Prinzenstrasse or Hallesches Tor
Actors are impressive when their acting remains spontaneous in predetermined, agreed dramatic situations and is therefore lively and believable. The Meisner-Technique developed by Sanford Meisner offers ideal training for this: spontaneous reactions and actions under imaginary circumstances.

The ability to act spontaneously, showing emotions and to make inner events and decisions visible to the audience is trained from the very first exercise of the Meisner-Technique: the so-called "repetition" (repetition exercise).The "repetition" is mainly trained in the MoK, a partner exercise for real contact with the other person, spontaneous reaction to scene partners and within imaginary circumstances.


The aim is to gain confidence in the individual, impulse-motivated action in a dramatic conflict, as well as to strengthen emotional transparency, the courage to be spontaneous and empathy in contact with scene partners.

The Meisner open class (MoK) offers optimal training before castings or auditions, or over a longer period of time. Within a weekly, continuous training process (approx. 10 weeks), habits that dominate the individual range of actions can be consciously experienced and expanded. With the help of the spontaneity that is released through the exercises, new action impulses emerge that tend to make unfamiliar actions tangible, which in turn expand the specific range of actions and roles.


Depending on prior agreement, roles, scenes for castings and/or auditions in MoK training can also be worked on.
Hygiene concept:
A maximum of 10 people will participate at a time.
As long as there are no free citizen tests, rapid tests will be carried out on site (against a donation at the donor's discretion). Please be on site by 5.45 p.m. at the latest to carry out the test.
The current mask requirement applies.
The exercises can also be carried out if the minimum distance is observed and can be adapted to the distance rule.
Registration: [email protected]
Fee: 3-hour session €25 - ticket for ten €215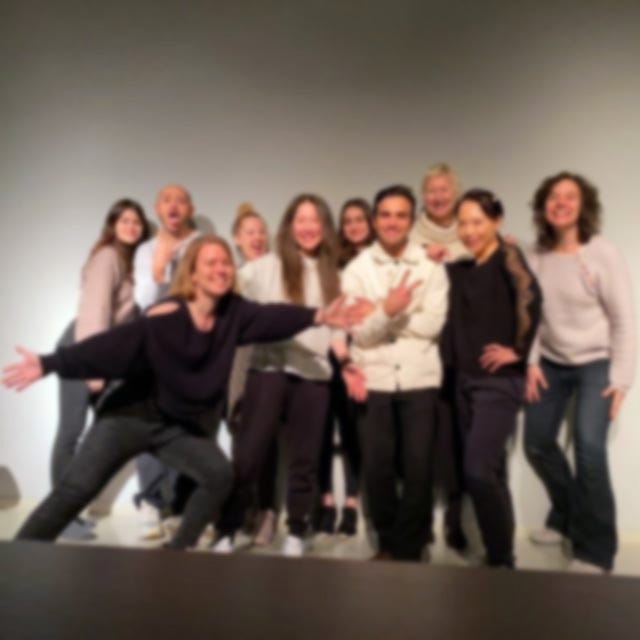 Year-long Meisner Class 2022/23